Apple Repairs & Warranty


---
YOUR LOCAL APPLE EXPERTS
We are your local Authorised Apple Service Provider, meaning we can address your Mac, iPhone, iPad, iPod, Apple Watch, AirPods, AppleTV, BEATS warranty and other service issues in-house. There are many advantages of using your local authorised service centre and include:
No need to travel long distances to get your equipment serviced or repaired.
Usually no appointment required (but ring first just to be sure!)
Our technicians are Apple Certified who have all completed a formal accreditation process and update their knowledge base daily.
We have access to genuine Apple parts and a wealth of technical resources and solutions.
We aim for a fast turnaround of warranty claims (usually under 48 hours for in store repairs)
We have an Apple accredited work-shop and tools, and most importantly are ESD compliant
Damaged Apple devices replaced by us, continue to be covered under your original Apple warranty
We are always updating our training and actively pursuing additional Apple accreditation
How do I check if my Apple product is still in warranty?
Visit this link and enter your product serial number https://checkcoverage.apple.com/au/en/
If you don't know where your serial number is located, you can find out here: https://support.apple.com/en-au/HT204308
It's worth noting that even if your device is out of warranty, you may still be covered under Consumer Law or an Apple Quality Program, so it's always worth asking us to confirm your coverage status.
Current Exchange & Repair Extension Programs in place by Apple can be found here: https://www.apple.com/au/support/exchange_repair/
Can you repair my device outside of warranty or if it has been damaged?
Generally so, however sometimes it may not be an economical repair or it may be of the age where parts are no longer available. We are always happy to quote on repair, or provide a letter for your insurance company if you are pursuing a claim for accidental damage on your policy. Our minimum labour charge of $60 applies for repair quotes, and this fee is waived or refunded is you do proceed with repair or replacement.
iPhone Repairs
Damaged iPhone screens are replaced with genuine Apple displays with full device diagnostics run after fitting for your absolute peace of mind. There is a varying scale of cost for screen replacements, and sometimes if the damage is too great, or if there are other damaged components in the device the unit will be replaced rather than repaired. Typical pricing is outlined below, but due to for an accurate idea of cost and turnaround time, we would need to assess the iPhone in store and quote accordingly.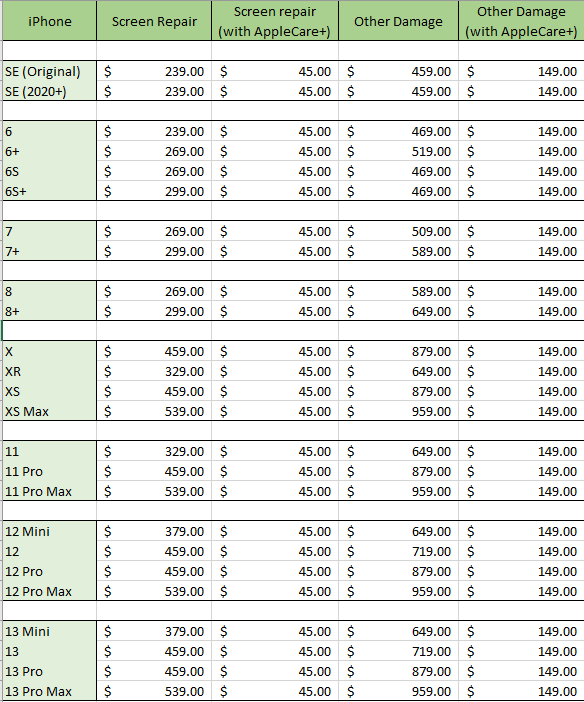 For damaged iPod or iPad screens, these devices are onforwarded directly to Apple for exchange rather than repair and the cost varies based on model, capacity and condition of the unit. We are happy to provide a quote upon assessment, and turnaround time averages 2-3 business days.
Battery Replacement
We can facilitate a battery replacement for your iPhone however prior to organising a repair we must run diagnostics for confirmation of failure. The replacement may be covered under warranty or be a chargeable repair depending on age, condition and other issues present in the iPhone. If your iPhone has a damaged screen, we cannot replace the battery unless the screen is also repaired (see pricing above) Cost for a battery repalcement is typically:
iPhone 13 - 13 Pro - 13 Pro Max - 13 Mini - 12 - 12 Pro - 12 Pro Max - 12 Mini - 11 - 11 Pro - 11 Pro Max - X - XS - XS Max - XR
In Warranty or with AppleCare+ $0 Out of Warranty $129
iPhone SE - 6 - 6 Plus - 7 - 7 Plus - 8 - 8 Plus
In Warranty or with AppleCare+ $0 Out of Warranty $99
Do I need to make an appointment?
Usually not, but we would definitely suggest calling ahead to make sure we have a technician and bench space available. It's also a great idea to talk the problem through with us so we can let you know if we can't help you - and save you a trip in the process!
You can find us at 435 Raymond Street, Sale and we're open from 9.00 - 5.30 Monday to Friday and 9-12 Saturdays. Depending on staff rosters we may not be able to complete technical work on some Saturday mornings.
What should I do before I bring my device in?
Definitely back it up! If it's an iPod, iPad or iPhone, connect it to your computer and back it up in iTunes (or if you have iCloud enabled, then back it up to the cloud) For a computer, take advantage of the inbuilt Time Machine feature and back up the entire computer very easily to an external hard drive. We have prepared a document showing you the various ways to back up your device and we can also email it to you - just call and ask!
It's also useful if you know your AppleID and your password, plus any user passwords or passcodes.
You will need to turn off the Find My iPhone feature on your mobile device before any repair can commence. This setting is located in iCloud under General in Settings. Alternatively if you can no longer power the device on, then visit www.icloud.com to sign in with your AppleID and password to disable it there. For more detailed information on removing Find My iPhone, visit: https://support.apple.com/kb/ph2702?locale=en_US