About Us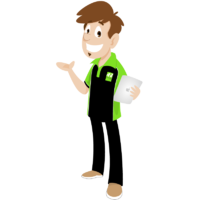 We've been around for a pretty long time
From the days of Windows 3.1, PowerMacs and dot matrix printers to the right now of mobile technology, social media and the ever mysterious cloud, AZ Computers has been a household name for over 25 years. We've grown and evolved alongside our consumer, business, education and government customers and embraced the changes of technology and its impact in your home, office and school. And we've had loads of fun along the way.
We are your Apple experts in more ways that you may know
We are one of the very few independent long term Authorised Apple Resellers in Australia and are super proud of the services and skills we offer our customers. We sell the complete Apple range - Computers, iPads, iPods, iPhones, Apple Watch, BEATS and AppleTV.
Our technicians are pretty awesome
Our fully equipped, ESD compliant workshop caters to all sorts of repairs, upgrades and frequent technological miracles. We service all makes & models and complete in and out warranty repairs for many brands. Data transfer, data recovery, virus removal, software fixes, network overhaul, maintance, backups, insurance quotes and more....we will tackle almost everything our customers throw at us! We also offer onsite and remote service for a totally convenient solution.
Outside of our retail operations, we have been a contracted supplier to the Department of Education since 1999 and supply some very clever specialist technicians to many of the primary and secondary schools throughout Gippsland,
Sometimes we will talk you out of a sale
If you've been a customer of ours for a while you'll know that we dont always want to sell you something! Sometimes you already have the right equipment to do what you need to do, and sometimes theres a different way to do it that could be easier or solve another problem at the same time. We're all about the right solution for you and making sure you get the best, most resourceful bang for your buck.
Our switched on team can help you with all aspects of your technology cycle - from pre sales advice, implementation, individual/group training and ongoing support. All delivered with confidence, a smile and good old fashioned customer service! Our store is brimming with all the must haves you might need - literally too many to name, but if you think of a computery based thing that starts with a letter between A to Z then we will have it, get it, or tell you where else you can find it. And if you can't come and see us in store, then just browse our wares online, add them to your cart and they'll be delivered to your door quicker than you think.